Hachinan tte, Sore wa Nai deshou! (八男って、それはないでしょう!) or "The Eighth Son? Are You Kidding Me?" is written by Y.A. The manga is drawn by Kusumoto Hiroki and the LN art by Fuji Choko.
Ichinomiya Shingo, a 25-year-old man working at a firm company, while thinking of tomorrow's busy working day, goes to sleep. However, when he woke up, he found himself in a room unknown to him and realized that he is inside a 6-years-old body, taking over his body and mind. He soon learns from the memories of the boy that the boy was born as the youngest child of a poor noble family living in a back-country. Having no administrative skills, he can't do anything to manage the vast land his family has. Fortunately, he is blessed with a very rare talent, the talent of magic. Unfortunately, while his talent could bring prosperity to his family, in his situation it only brought disaster. This is the story of the boy, Wendelin von Benno Baumeister, opening his own path in a harsh world.
Chapter List:
Chapter 1: When I wake up…
Chapter 2: I think I'm in a trance
Chapter 3: A poor noble house in the southernmost frontier
Chapter 4: Baumeister knight territory
Chapter 5: People in Baumeister knight peerage house
Chapter 6: The existence of magic
Chapter 7: Aspire to become a mage
Chapter 8: The useless child working hard at magic training
Chapter 9: Every day in the forest
Chapter 10: Encounter with my magic master
Chapter 11: Parting with master
Chapter 12: Master heritage
Chapter 13: Heir's marriage
Chapter 14: Erich-nii-san
Chapter 15: Separation with Erich nii-san
Chapter 16: Determine to be alone
Chapter 17: The sea is filled with dreams
Chapter 18: Metropolis, Breitburg
Interlude 1: I can't summon a familiar
Interlude 2: The bride and mother-in-law conversation
Chapter 19: A loner also out on the crowd
Chapter 20: Small family feud
Interlude 3: I don't need such poor territory!
Chapter 21: Adventurer prep school
Chapter 22: First friends, a flag?
Chapter 23: Uninvited member
Interlude 4: A man named Wendelin von Benno Baumeister
Chapter 24: Margrave Breithilde hosting a garden party
Interlude 5: I am not a lolicon! …I think
Chapter 25: Master was a celebrity
Chapter 26: (hidden)
Interlude 6: A strong-willed Loli girl
Chapter 27: Audience with His Majesty
Chapter 28: Associate Baron Baumeister
Chapter 29: Reunion with Erich-nii-san
Chapter 30: Erich-nii-san's marriage
Chapter 31: Circumstances of the Helmut Kingdom Aristocracy
Chapter 32: Royal Head Magician, Klimt Christoph von Armstrong
Chapter 33: A brief holiday
Chapter 34: Compulsory army order: Old dragon subjugation
Interlude 7: Circumstances surrounding the composition of the Associate Baron Baumeister's feudal troops
Chapter 35: Fiancée
Interlude 8: Behind the scenes of the Fiancée Selection
Interlude 9: At the Baumeister knight peerage after the dragon subjugation
Chapter 36: My Fiancée is nicknamed Saint
Chapter 37: The Saint's First Date
Chapter 38: Studying at the Royal Capital
Chapter 39: Story about increasing the masters
Interlude 10: Pink Hippo-san
Interlude 11: The Saint's confession
Interlude 12: The Lord's weird instruction
Interlude 13: A shady realtor
Interlude 14: Duel Uproar
Interlude 15: Helmut-nii-san's adoption into the family of his bride
Interlude 16: Night before the Martial Arts Tournament
Interlude 17: Performance at the Martial Arts Tournament
Chapter 40: Turning 15 years old
Chapter 41: Adventurer registration
Chapter 42: The dangerous adventurer debut fight
Chapter 43: The Loot from the Underground Ruin
Interlude 18: Sequel after capturing the Underground Ruin
Interlude 19: The depression of the Baumeister family's eldest son
Chapter 44: The overwhelming reward
Interlude 20: Sorcery Guild
Chapter 45: The started adventurer life and a new request
Chapter 46: Coming home after a long while
Chapter 47: Once again Klaus
Chapter 48: Achievement of the request and chaos at the Baumeister household
Chapter 49: Stay at the Baumeister territory and Kurt's troubles
Chapter 50: Attempt to develop the Savage Lands
Interlude 21: First exploration of the Demon Forest
Interlude 22: The cornered Kurt
Omake 1: Mayonnaise and the Earl Armstrong household
Chapter 51: Flute of a dragon tamer?
Chapter 52: Flute of Grudges
Interlude 23: The Rückner brothers
Omake 2: The muscled substitute Priest-sama
Chapter 53: Records of settling the case of attempted assassination on Baron Baumeister
Chapter 54: (hidden)
Chapter 55: Beginning the development of the Baumeister Earldom
Chapter 56: The woman's named 『Storm』
Chapter 57: Competition
Chapter 58: The Demon Forest's Underground Ruins
Chapter 59: Katharina and the new retainers
Chapter 60: A new trigger
Chapter 61: Waigel household's revival
Omake 3: The circumstances of the opposite genders
Chapter 62: Ill weeds grow apace even if they've become old
Chapter 63: A schemer, that might point to someone like that
Chapter 64: Beyond a strife? Less than a war?
Chapter 65: Meaninglessly long confrontation of armies
Chapter 66: Even while victory is estimated, it continues tediously
Chapter 67: Just when the arbitration finally began…
Chapter 68: The settlement of the war is troublesome, be it as winner or loser
Chapter 69: The one in charge, come out immediately!
Chapter 70: You lot finally came, huh…?
Chapter 71: Because I'd like to leave first
Chapter 72: Herthania Valley Liberation Operation
Chapter 73: In the end I get stuck with handling the settlement
Interlude 24: Concerning a certain custom of nobles
Chapter 74: Grand Marriage Interview Meeting
Interlude 25: Erwin von Armin's Campaign Diary?
Chapter 75: A noble's wedding ceremony and bridal night are troublesome!
Chapter 76: The secrets increase in a newly-married life
Chapter 77: I try to go out for leisure
Chapter 78: Friendship Visit Group
Chapter 79: The female Family Head of the Duke Philip household
Chapter 80: A story of sleepy politics I heard somewhere before
Chapter 81: A turbulent night
Chapter 82: High Earl Mizuho
Chapter 83: Sightseeing in Earl Mizuho Country
Chapter 84: At last, the departure to the front
Chapter 85: The First Sorbid Wasteland Engagement
Chapter 86: Therese-sama appears at the frontline
Chapter 87: Duel with the Sis-con Samurai
Chapter 88: Too many cooks spoil the broth
Chapter 89: Tactical victory, strategic defeat
Chapter 90: A noble can be arrogant if they win in war (battle)
Chapter 91: Is this hypocrisy or a voluntary activity?
Chapter 92: A new enemy? And an unexpected reunion
Chapter 93: Why does the enemy's boss want to talk with our side before the decisive battle? And, Wendelin's worst pinch
Chapter 94: Fight to Death with Master
Chapter 95: Attracting People as we start moving southwards
Chapter 96: The Prolonged Great Battle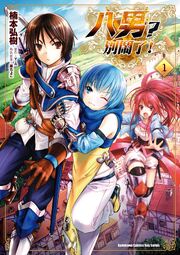 A manga adaptation with art by Hiroki Kusumoto has been published online by Kadokawa Shoten's ComicWalker since 2015. As of March 31, 2020 it has been collected in seven volumes. There are currently 50 chapters.
An anime adaptation of the series was announced by Media Factory on December 14, 2018. The anime was later confirmed to be a television series, which premiered on April 2, 2020 on Tokyo MX, BS11, and AT-X. 
The series is co-animated by Shin-Ei Animation and SynergySP, with Tatsuo Miura directing the series, Takeshi Miyamoto handling series composition and Keiji Tanabe designing the characters. Minako Sato is composing the series' music. The opening theme is Space-Time of the Hesitant Person (時空の迷い人, "Jikū no Mayoi Hito") performed by Demon Kakka and Arika Takarano, while the ending theme is Moonlight Monologue (月明りのMonologue, "Tsukiakari Monologue") performed by Akino Arai x AKINO from Bless4.
Crunchyroll will be streaming the series. The series is also confirmed to have 12 episodes. The first episode aired in April 2, 2020.
| # | Name | Release |
| --- | --- | --- |
| 1 | The 8th Son? Are You Kidding Me? | April 2, 2020 |
| 2 | A Succession Dispute? Are You Kidding Me? | April 9, 2020 |
| 3 | A Loner? Are You Kidding Me? | April 16, 2020 |
| 4 | Obligations? Are You Kidding Me? | April 23, 2020 |
| 5 | Political Marriage? Are You Kidding Me? | April 30, 2020 |
| 6 | A Bullet Tour? Are You Kidding Me? | May 7, 2020 |
| 7 | No Magic? Are You Kidding Me? | May 14, 2020 |
| 8 | Presumed Dead? Are You Kidding Me? | May 21, 2020 |
| 9 | People Hate Me? Are You Kidding Me? | May 28, 2020 |
| 10 | Toxic? Are You Kidding Me? | June 4, 2020 |
| 11 | Between a Rock and a Hard Place? Are You Kidding Me? | June 11, 2020 |
| 12 | The 8th Son? I Guess That's Not So Bad! | June 18, 2020 |
Community content is available under
CC-BY-SA
unless otherwise noted.